Wyvern Rex (Monster Hunter EX)
Description
Nicknames:
W.Rex
Titles:
The Ancient Violent Wyvern
Other Info
Description:
see below
Species:
Pseudowyvern /Flying Wyvern
Habitats:
Anywhere
Other monsters in Relation:
Tigrex, Tigrex Subspecies, Tigrex Rare Species, Diorekkusu
Information
Elements:
None
Ailments:
Defense down
Weaknesses:
Thunder, Dragon
Signature move:
Trampling Charge
Creator
Creator:
Gojira57
The Wyvern Rex is a large pseudo wyvern that was thought to be extinct until quite recently. It makes a full appearance in Monster Hunter EX. It can only be fought at G-rank.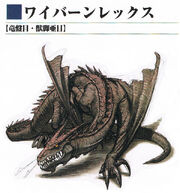 In Game Description
Monster Hunter EX
A Savage Wyvern that was thought to be extinct. Unfortunately we were wrong. With quick and savage attacks, this beast is a deadly advesary to any hunter.
Introduction scene
coming soon....
Move set
Coming soon....
Leave sugesstions....
Materials
Wyvern Rex Scale
Wyvern Rex Plate
Wyvern Rex Carapace
Wyvern Rex Wing
Wyvern Rex Talon
Wyvern Rex Skull
Wyvern Rex Topaz
Equipment and Weapons
Coming soon.....
Notes: 
When Enraged, it will huff black smoke
It's theme is the Tigrex Theme from MH4.
When Fatigued, it will Prey on an Herbivore to regain stamina.
It is able to be found in any unstable enviroment quest in G-rank at any time, including Harvest Tour quests.
ITs weapons requires 3 Wyvern Rex Topazes, one to create the weapons, and two additional ones for the maximum upgrade.
Ad blocker interference detected!
Wikia is a free-to-use site that makes money from advertising. We have a modified experience for viewers using ad blockers

Wikia is not accessible if you've made further modifications. Remove the custom ad blocker rule(s) and the page will load as expected.