Legendary Tales
http://monsterhunterrpgtrek.jimdo.com/

Description and Information

Fan Fiction Name:
Legendary Tales
Author/s:
IllumZar
First Debut:
24. August 2014
Number of Chapters:
8 Quests
Current Status:
Inactive

Chapters

[Bug Hunt] [No Love for Ludroth] [The Perfect Panacea] [Who's the Boss] [My Lord's Errand] [Save Our Boat] [Playing with Fire]

[Reckless Bulldrome Hunter]
What is it all about?
is a non-profit fan game being made by "IllumZar". This is my way to thank the Monster Hunter Community aswell as Capcom for making these great games. Further goal of this project is to draw attention to the Monster Hunter games that didn't make it to the west (eg. MHFO/MHFG) aswell as the Monster Hunter "Clones" like the really awesome "God Eater" or "Hunter Blade" (yes it's alive!).
The idea for an MHRPG came about in late 2012 while stumbling through the internet. I found an old game created with an older RM version called "The adventures of Iron Beard".
More Details?
Just imagine a mix between Final Fantasy and Monster Hunter:
a Realtime-Action-Battlesystem

4 Weaponclasses (Gs, SnS, Hmr, Lnc)

animated battlers

Questsystem

Combination- and Craftingsystem

13 Minions: Jaggi, Jaggia, Aptonoth, Altaroth, Falyne, Melynx, Bullfango, Ludroth, Gargwah, Giggi, Bnahabra, Epioth, Kelbi

5 Bosses: Great Jaggi, Arzuros, Royal Ludroth, Qurupeco, Bulldrome, Deviljho?

about 200 items and carves

about 15 equippable weapons

and lots more...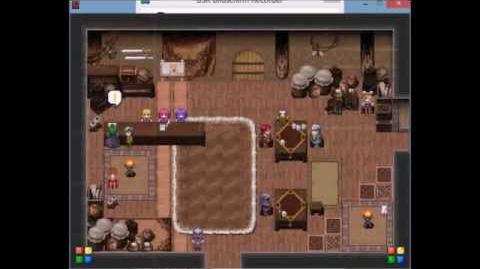 What Alpha 0.2 features:
Changelog:



- fixed some terrain issues

- fixed balance issues

- changed battlesystem options = the charge bar will no longer drop 

  when you've been hit

- changed battle speed; it's slower now

- changed monster drop rate

- changed monster hp; it's way lower now

- changed overall difficultly; it's easier now

- added monster ecologybook

- added new items eg. "Book of Combos 1", "Book of Combos 2", 

  "Book of Combos 3", "Portable Ecologybook"

- added combination mid quest is possible via combobooks

- added 2 new bosses = Qurupeco, Bulldrome

- added 1 semi boss = Deviljho

- added unique attack sounds for bossmonsters

- added 2 new quests = "Playing with Fire", "Reckless Bulldrome Hunter"

- added "Rage" status

- added fullscreen mode!

If you have any questions or

suggestions don't hesitate to ask them on my website.
http://monsterhunterrpgtrek.jimdo.com/

Ad blocker interference detected!
Wikia is a free-to-use site that makes money from advertising. We have a modified experience for viewers using ad blockers

Wikia is not accessible if you've made further modifications. Remove the custom ad blocker rule(s) and the page will load as expected.