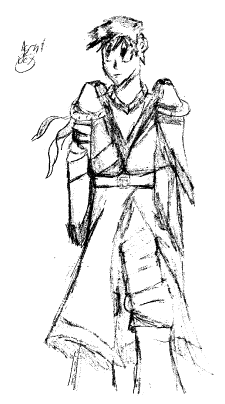 Aaron is the main character of Monster Hunter reBirth. He is the leader of the three main characters of the series. He is 17 years old.
Description
Aaron is the strong, silent type of hunter. He prefers to let his lance speak louder than his words. His hair is a pale ivory color, and his eyes are grey. Before the Asteroid hit Guildcorp City and reset half the world to a mideval state, Aaron was enrolled at Guildcorp University, a college/high school for all potential Guildcorp employees. He was generally a slacker, but only because he already knew much of what the curriculum taught. His father was a Guildcorp explorer, tasked with charting out the wilds and determining resources available to the corporation. Guildcorp lost contact with his father when he was exploring the volcano.
Facts
-Aaron is referred to as "The Deadman Paladin" by The Voice because he was the only one of the group who came near death when the Asteroid hit.
-Aaron has the highest level of psychic interface with The Voice.
-Only Aaron can see the Aurora Borealis that the Asteroid produces at night.
-Currently, Aaron wields a Thane Lance and wears Jaggi Armor.
Theme
http://m.youtube.com/#/watch?v=NBU3-NxeAyw&desktop_uri=%2Fwatch%3Fv%3DNBU3-NxeAyw
Ad blocker interference detected!
Wikia is a free-to-use site that makes money from advertising. We have a modified experience for viewers using ad blockers

Wikia is not accessible if you've made further modifications. Remove the custom ad blocker rule(s) and the page will load as expected.