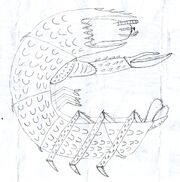 Monster description
is a large shrimp, with two different shells, one more external and resistant of blue color, and a gray less resistant, the position it has taken, promotes walking, and makes it able to roll.
Diet
most of the time sifts the sand near his lair, even though it will be seen go far outside of his den to hunt any animal available.
Habitat Range
coastal waters and tropical islands.
Behavior
lives alone in his lair usually a lagoon, after eating sleeping for several hours, in the case of famine or food shortages delves outside of his cave to go hunting, during the mating season, the male and female come together and make in shifts the protection of eggs.
taxonomy
regno: animalia 
philium: arthropoda
classe: malacostraca
ordine: decapoda
specie: alpheus frigus
Element
ice
Breakables
you can break the jaws, you can ruin the blue shell, you can cut the pereopodi (small paws center).
Attacks
clamped
jump: jump on the hunter
rolled
clamped of ice
ice jump
ice  rolled
cavitation
ice cavitation
diffusion of ice: freezes the surrounding area
Trivia
its eggs are considered a delicacy, in fact, are very expensive.
Ad blocker interference detected!
Wikia is a free-to-use site that makes money from advertising. We have a modified experience for viewers using ad blockers

Wikia is not accessible if you've made further modifications. Remove the custom ad blocker rule(s) and the page will load as expected.